Integrative Massage & Bodywork Therapy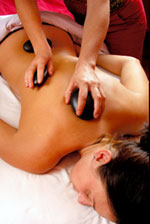 Whole Body Health Care
Relaxation is not a luxury... it is effective preventative healthcare. Especially during a pandemic! Stress engages our sympathetic nervous system, better know as "fight, flight, or freeze" response. The body needs to be in a parasympathetic state or "rest and digest" in order to perform many vital funtions. Massage is an excellent way to engage this relaxation response to allow the body to heal and repair itself, while releasing muscular tension. Experience the bliss of a hot stone massage and guided breakthwork to deeply relax and renew!
Relief from Chronic Pain
As we use our bodies, we develop neuromuscular patterns that compensate for an injury or weakness in the body. Often, this pattern become a engrained in us long after it is necessary. Over time, this can cause overuse, structural misalignments, and chronic pain. The good news is, through bodywork combined with increased body awareness and customized stretches, these patterns can be replaced with proper alignment and healthy movements. Learn about the healing modalities and services that I offer.
COVID Vaccination / Testing Policies
Proof of vaccination & booster required. If you have a legitimate medical condition that prohibits you from receiving vaccines, I will work with you provided there is a negative test result within 48 hours of your appointment and a commitment to masks, distancing, hand washing, and not taking unnecessary exposure risks. If you are refusing the vaccine for any reason other than a medical condition, my services are not available to you. Please vaccinate if you are able, it saves lives!