Onsite Corporate Chair Massage
Relaxation + Morale = ROI
You'll be amazed at how much can happen in ten to twenty minutes!
Help Your Business:
Increase Productivity
Decrease Absenteeism
Improve Retention Rates s
Elevate Morale
Motivate Employees
Workplace Chair Massage will help employees:
Decrease Aches and Pain
Reduce Stress and Anxiety
Increase Focus
Encourage Mental Wellbeing
Improve Immune Function
Decrease Chance of Injury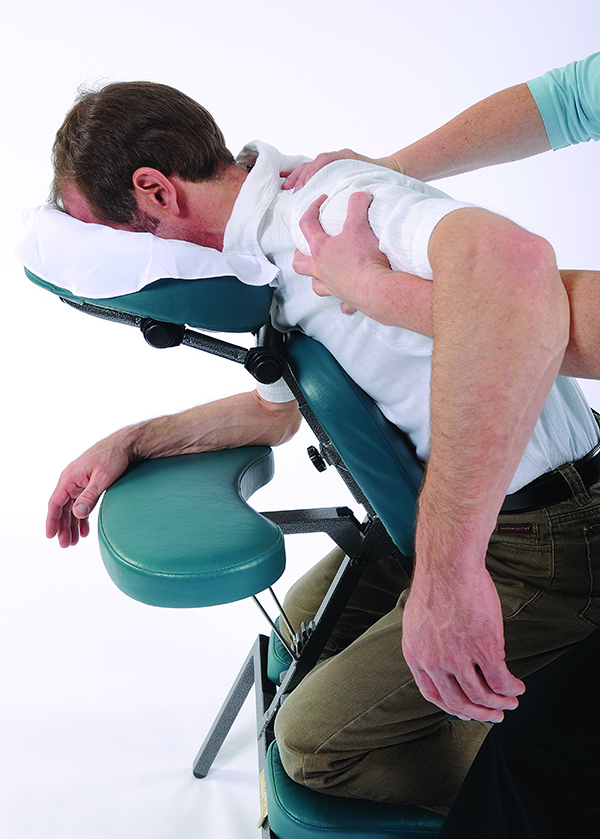 Studies have shown that the brain begins to recharge in just a few minutes of conscious relaxation. And with just the right touch, tired muscles feel rejuvenated right away. The wide range of benefits of Onsite Chair Massage will make a real and lasting impact in your working environment.
Rested workers are relaxed and ready to get down to business. In addition, massage puts them in a good mood - the better to engage with customers or do whatever they do - and leaves them feeling quite upbeat about your company.
Whether you want to reward employees for that final push on the last big project or say thank you periodically for all their hard work, chair massage is a benefit that counts. It is guaranteed to keep your employees productive, energetic and feeling good about themselves and their careers.
Chair massage recipients are typically pre-scheduled in 10 - 30 minute blocks of time. "Walk-in" style is also an option. You will need to provide a space, preferably in a private office or room, for the chair massage to take place. For events 3 hours and longer, therapist will need to schedule a 15-30 minute break; for events longer than 4 hours, therapist will need to schedule a 30-60 minute food break.
Currently serving the RDU North Carolina are: Hillsborough, Durham, Chapel Hill, Mebane, Pittsboro, Saxapahaw, Fearrington Village, Govenor's Club, Bynum, Bahama, Cary, Apex, Eno, Gorman, Falls Lake, Eubanks, Efland, and more.
Rates include
Transportation to your site
Equipment setup/breakdown
Relaxing Music
Licensed & insured massage therapist (multiple therapists also available, inquire!)
Professional massage chair
Organic Lotion for hands / forearms
Aromatherapy (optional)
Scheduling Spreadsheet
Chair Massage Pricing
1.5 Hours
$270
2 hours
$340
3 Hours
$400
4 hours
$480